Last date/time page edited 08/11/19 11:53


Lost and Found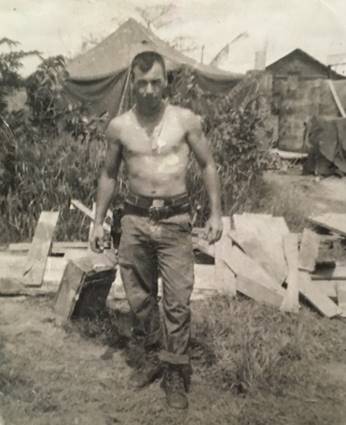 Seeking anyone who knew or served with Robert E. Lee Hamilton. Robert served with B Company, 2nd Battalion, 60th Infantry, 9th Infantry Division from October 6, 1967 until he was Killed in Action on January 1, 1968 in Long An Province, Vietnam. Robert was from Chattanooga, TN. Please contact Wanda Burke, 2015 Hickory Dr. NW, Cleveland, TN 37311 - burkewanda@aol.com
Sergeant Rodney "Rod" Rentfrow is looking for contact with anyone who served with him. His tour with 2/60th was from September 2, 1968 to July 29, 1969. If you recall Rod then please contact his daughter, Melissa, at:
melissa@gibsrvsuperstore.com
Mystery is Solved...!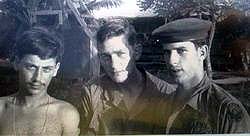 L to R: Charles Tate, Mack Wheetly and Alfred "Sebe" Hightower.
I posted a message on the website regarding trying to identify two soldiers with Alfred "Sebe" Hightower. The owner of the findagrave website for Alfred Hightower has granted me permission to forward that photo to you to post on your website. He did not ask to be credited with providing the photo but his name is Tom Reece and his findagrave website is:
http://www.findagrave.com/cgi-bin/fg.cgi?page=mr&MRid=46857744
He has the sites for several 2/60 members and does a wonderful job with them. He is the individual trying to ascertain the identity of the two soldiers with Hightower. Since Alfred Hightower was a recipient of the Silver Star, I think it is highly likely someone will be able to furnish the information.

Thank you

Robert Fowler

Looking for James Tolley served in Recon Platoon 68-69 last know address Las Vegas, Nv. Contact Mark Brockway: brockway18@hvwisp.net
Patrick Werner: I served with HHG & A Co. & B co. at different times and have found a couple of the guys from B. Company:
Larry Long is in Sacramento , Cailf.
Larry Pacheco is in Colorado. He served in the boat platoon

Are you searching for a long lost 2/60 Infantry buddy? Contact our Webmaster below. Be sure to include all details known, full name, rank, company/platoon, home town/state and in-country dates. We will post the information on this page and let you know.

If a Veteran is Buried in a National Cemetery then you can do a Search by clicking HERE
In Search of:
1LT/CPT Joseph J. Mancuso, Recon Platoon Leader 1967, Battalion S-2 1968, B Company Commander 1968, from Elmont, N.Y.
FOUND
Contact yoejoe@hotmail.com for LTC Joseph J. Mancuso's, USA, Retired, address and phone number!!!

LTC Joseph J. Mancuso
1122 West 20th Street
San Pedro, CA 90731-4919 telphone:310-833-6722
---
Son of Lester E. Downing
Looking for anyone who may have known my father in Vietnam. KIA 29 Apr69 in Dinh Tuong. He served in Co C.Please e-mail me atacmccray@earthlink.net.
Update July '06: Jeff Bradbrook was the Platoon Sergeant when Lester was killed. Unfortunately Lester was new to the unit and no one knew him very well.
Update February '07: Bob Clark made contact with the son.
---
SP4/SP5 James Clemens (alias Doc and the best medic in the whole damned Army), HHC Medical Platoon, Medic Recon Platoon 1967-1968, from Trenton, NJ. "My man pots and pans born with a silver spoon in his hand."
---
Doc Izard, Medic, 3rd Platoon, A Company 1970
---
SSG Lee Moorman, Recon Platoon, 1968 from Indiana.

FOUND
Contact Lee at lmoorman@ibm.net !!!
---
Contact Bob J Schnell [BOBSCHNELL@prodigy.net] if you know any of the following
Tom Roark, from Iowa
Dave Peek, from California
Ron Ely, SGT.
Richard Moreno
Ron Pieper, Lt.
SGT/SSG Norbert Schubat, Recon Platoon, 1968, possibly from Detroit, MI.
---
Larry Pacheco, HHC, BOATA Platoon, Contact Patrick Werner for Larry's information: pfwerner@megsinet.com
FOUND
---
SP4 Steve Ellis, 1969
---
SP4 Paul I. Smith, 1969, 4/39 Inf, from Kentucky
---
LT Chesley Harris, C Company, 75-76, Fort Lewis (those are not typos, we will accommodate all former members of 2/60 Inf)
---
Dan Bedola, C Company, 68-69
FOUND
Dan has been located in California. Please contact Jeff Bradbrook for details: Bradbrook@worldnet.att.net
---
Joe Milan, C Company, 68-69
---
Joe Floyd, C Company, 68-69
---
Eric Sheer, C Company, 68-69
FOUND
Eric is living in Washington State. Please contact Jeff Bradbrook for details: Bradbrook@worldnet.att.net
---
CPT Jim Foresberg, A Company, 67-68
FOUND
---
Dan Worthington, C Company, 68-69, from Ohio
FOUND
Dan has been located still living in Ohio. Please contact Bob Slafta - bslafta@yahoo.com or Jeff Bradbrook - Bradbrook@worldnet.att.net for details.
---
Rich Lawson, C Company, 68-69, from Iowa
---
Mike Cassell (sp), C Company, 68-69, from New York
---
SGT Greg Hemmer, 1st Plt, A Company, 69-70, from OHIO
---
SGT Chuck Holmes, A Company, 69-70, from New Jersey
---
1LT Garcia, A Company, 1970, wounded 26 May 1970, last seen at 249th Field Hospital in Japan, Contact John Raubar former 1LT, 3rd Platoon Leader, A Company.
---
SGT Bobby C. Snyder, KIA 10 Dec 1968, home town West Sacramento, CA, Anyone knowing the circumstances surrounding his death please contact our Webmaster at the email address below.

---
SP4 Jerry Littles, C Company, 1966-1967
FOUND
Reverend Richard Littles, Jerry's son, reported recently that his Father passed away on December 7, 1998 as a result of a heart attack. You may contact Richard C/O: 122 13th Street NE, Mason City, IA 50401 - (641) 210-0559 - lordsothkbr@gmail.com

---
E-mail Webmaster with any information